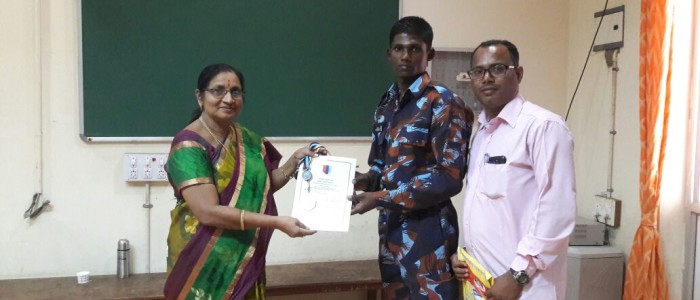 NCC FIRST YEAR CADETS INAUGURATION:
The NCC first year cadets were enrolled by PI STAFFS. By checking with physicalsand medical fitness during  the  selection.27 new cadets were enrolled. A function was conducted to invite them in the college on 22-08-2017.The basic of ARMY, NCC were showed to the cadets as a A.V clip.
INDEPENDENCE  DAY:
The 70th INDEPENDENCE DAY was celebrated  on  15.08.2017 in  our  college. The  Independence day  celebration was organized and conducted by National Cadet Corps. The celebration consisted of 100 cadets and 150 staffs and other people. A  Drill demo  was  performed  by  the  NCC  cadets  and  the  best  cadets  were  honored  during  the  function.
CATC:
The  Combined  Annual  Training  Camp  was  conducted in  Glaze brook  Public School, Salem   from 22.09.2017  to 01.10.2017.40 cadets  from  our  college  participated  in this  camp. In  this  camp  the cadets  were  given  training  about  firing, weapon training, map reading, field  craft  and  signals.
REPUBLIC  DAY  CELEBRATION
The   68th  Republic  day  celebrations  was  celebrated  in  our  college on  26.01.2017.The  Function  was   organized  and  conducted  by  the  National  cadet  corps. Competitions  like  essay, drawing   and  speech  were  conducted  to  the  college  students  about  National  leaders, National   integration  and  winners  were  given  prizes.
BLOOD DONATION CAMP:      
"Blood Donation Camp" for the NCC cadets was organized by salem  sowdeswari college, salem
On 06.10.2017. our 50 cadets actively participated in it and donated blood.